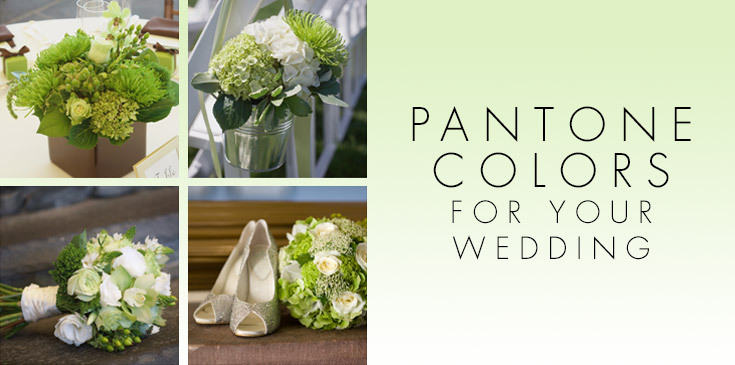 After much anticipation, the Pantone Color Institute has revealed its list of the top 10 trending colors for 2017 – as well as the Pantone Color of the Year, Greenery.  The colors on the list are compiled primarily from watching top fashion designers and runway shows, but the fashion-forward tones also translate to all aspects of design. This year's choice for top color represents all things spring – it is reinvigorating, rejuvenating, fresh and alive. Greenery is one of the two greens on the list for the upcoming season, and is joined by 8 other beautiful shades of nature.
Planning a wedding in 2017? The expert floral designers at Nanz & Kraft Florists will take your inspiration and turn it into reality – by pairing your vision with the most beautiful flowers and decor in Louisville.
Greenery is most often exhibited in cymbidium orchids, green hydrangea, and green roses.
If you are looking for a soft classic look, Hazelnut and Pale Dogwood are the perfect shades. The earthy neutral and the romantic pale pink combine to create bouquets that exude a vintage ambiance, and look beautiful in roses. 
Pantone color covers the entire spectrum, so if pale pink is a bit tame for you -there are plenty of options on the 2017 list! Pink Yarrow turns up the heat on the hue, creating a hot neon shade that confidently demands to be the center of attention.  Roses, gerberas, and peonies are bold  – and pretty – in hot pink. 
Light a fire with the vivid orange of Flame, the spiciest color on the list. This is a color for the vivacious and the extroverted – and promises an unforgettable impact. 
The Pantone Color List is rounded out with a darker green (Kale), three blue tones (Niagara, Island Paradise, and Blue Lapis) and a cheerful yellow hue (Yellow Primrose). There is truly something for everyone, meaning you can showcase the hottest colors of the year, while still remaining true to your style.
Nanz & Kraft Florists are experts at designing the most stunning wedding bouquets, centerpieces, altar flowers and venue decor. Whatever inspires you, we'll bring it to life. Call us today!